VERNON F. L. CHAR


VFLChar@lawcsilc.com

Was born in Honolulu, Hawaii (December, 1934) and graduated from the University of Hawaii in Honolulu, Hawaii (B.A., 1956) and Harvard Law School in Cambridge, Massachusetts (LL.B., 1959). He was admitted to practice in the State of Hawaii in 1959 and is licensed to practice before United States District Court for the District of Hawaii, the Ninth Circuit Court of Appeals, and the United States Supreme Court.

Mr. Char served as a member of the Board of Governors of the American Bar Association and a Delegate to the American Bar Association House of Delegates. He served as President of the Young Lawyers Section of the Hawaii State Bar Association and President of the Hawaii State Bar Association.

Mr. Char served as a member of the Hawaii Tourist Authority and Hawaii Board of Land and Natural Resources, as Chairman of the State Ethics Commission, Chair of the Hawaii Bicentennial Commission on the U.S. Constitution and President of the University of Hawaii Alumni Association. He currently serves on the Hawaii Advisory Committee to the U.S. Civil Rights Commission.

Mr. Char practices in the areas of business transactions (including development, acquisition and sales of businesses and government contracts) and antitrust and unfair trade practices law and litigation. He has served as an arbitrator for the National Association of Securities Dealers.

Martindale Hubbell rating: AV
Back to Top




STEVEN L. CHING
SLChing@lawcsilc.com

Was born in Honolulu, Hawaii (May, 1952), attended Franklin College in Lugano, Switzerland and graduated from Claremont Men's College in Pomona, California (B.A., cum laude, 1974) and the University of California in Davis, California (J.D., 1977). He was admitted to practice in the State of Hawaii in 1977.

Mr. Ching served as law clerk to Chief Justice William S. Richardson of the Supreme Court of the State of Hawaii. He was Editor of the University of California, Davis Law Review and authored "The Burden of Proof in California Environmental Nuisance Cases," 9 University of California, Davis Law Review 679, 1976.

Mr. Ching practices in the areas of business transactions (including development, acquisition and sales of businesses, franchise law and intellectual property law), real property law (including acquisitions, sales and leases) and corporate, partnership and other business organizations law.

Martindale Hubbell rating: AV
Back to Top




SEAN I. CHU
SIChu@lawcsilc.com

Was born in Kunsan, Korea (February, 1976) and attended Doshisha University in Kyoto, Japan and graduated from Middlebury College in Middlebury, Vermont (B.A., 1998) and William S. Richardson School of Law, University of Hawaii in Honolulu, Hawaii (J.D., 2002). He was admitted to practice in the State of Hawaii in 2002.

Mr. Chu received the American Jurisprudence Award in Corporation & Partnership Taxation and the Dean's Scholarship Award.

Mr. Chu served as law clerk to the Honorable John S. W. Lim, Intermediate Court of Appeal of the State of Hawaii. He also worked as a foreign attorney at Bae, Kim & Lee, LLC in Seoul, Korea, focusing his practice on mergers, acquisitions and joint ventures.

Mr. Chu is a member of the American Immigration Lawyers Association and Business Law Section and International Law Section of the Hawaii State Bar Association and the American Bar Association. He is a member of the Korean American Bar Association Hawaii and the International Association of Korean Lawyers.

Mr. Chu practices in the areas of immigration law, business transactions and negotiations (including development, acquisition and sales of businesses, and aircraft purchases, sales and leases), and corporate, partnership and other business organizations law. He is fluent in Korean, Japanese, and English.
Back to Top




JACQUELINE H. FURUTA
JHFuruta@lawcsilc.com

Was born in Honolulu, Hawaii (September, 1964) and graduated from the University of Hawaii in Honolulu, Hawaii (B.B.A., 1987) and Willamette University College of Law in Salem, Oregon (J.D., 1991). She was admitted to practice in the State of Hawaii in 1991.




Ms. Furuta is a member of the Tax Section and Probate and Estate Planning Section of the Hawaii State Bar Association. She is a member of the Hawaii Estate Planning Council. She has authored articles on estate planning in publications including the Pacific Business News.

Ms. Furuta served as a law intern at the Department of the Attorney General, State of Hawaii, Tax Division.

Ms. Furuta practices in the areas of estate and gift taxation, estate planning and probate law.

Martindale Hubbell rating: AV
Back to Top




CAROLYN E. HAYASHI


CEHayashi@lawcsilc.com

Was born in Honolulu, Hawaii (June, 1961) and graduated from the University of Hawaii in Honolulu, Hawaii (B.A., 1983) and the William S. Richardson School of Law, University of Hawaii in Honolulu, Hawaii (J.D., 1986). She was admitted to practice in the State of Hawaii in 1986 and is licensed to practice before United States District Court for the District of Hawaii the Ninth Circuit Court of Appeals.




Ms. Hayashi is a member of the Collection Law Section, Labor and Employment Law Section of the Hawaii State Bar Association. She has authored articles on the employment issues in publications, including, the Honolulu Star Advertiser.

Ms. Hayashi lectures regularly at professional seminars on employment law and mechanics lien and collection topics, and provides EEOC and employment training to employers.

Ms. Hayashi was a member of the University of Hawaii Law Review, authored "The Contract Clause: The Industry Exception," 8 University of Hawaii Law Review 135, 1986 and received the American Jurisprudence Award for Wills and Trusts and Juvenile Law. She served as Chief of Research at the Crime Prevention Division of the Department of the Attorney General, State of Hawaii and Staff Attorney for the Senate Judiciary Committee, State of Hawaii.

Ms. Hayashi practices in the areas of civil, commercial, trust, and probate litigation and employment law. She serves as an arbitrator with the Court-Annexed Arbitration Program.

Affiliations: Volunteer attorney for the Teen Grads Program at Leilehua High School (1996-present); Wahiawa Lions Club (Secretary, 2012-present); Leilehua Alumni Association (President, 2014-present); District 50 Lions (Legal Advisor, 2015-present).

Martindale Hubbell rating: AV
Back to Top





ELIZABETH ANN ISHII


EAIshii@lawcsilc.com

Was born in Honolulu, Hawaii (September, 1955) and graduated from Stanford University in Stanford, California (A.B., 1977) and Hastings College of the Law, University of California in San Francisco, California (J.D., 1980). She was admitted to practice in the State of Hawaii in 1981.




Ms. Ishii is a member of the Business Law Section, Law Practice Management Section and Air and Space Forum of the American Bar Association. She sits on the Commercial Financial Services Committee and Aircraft Financing Subcommittee of the American Bar Association.

Ms. Ishii practices in the areas of general business transactions (including development, acquisition and sales of businesses) and finance transactions (including lease, joint venture, debt, and equity based project and equipment financing). She has extensive experience in structuring, negotiating, documenting and closing international aircraft transactions (including aircraft and engine purchases, sales and leases, aircraft parts provisioning, maintenance and repair agreements, and airline services agreements).

Affiliations: Hawaii Branch of the International Dyslexia Association (President, 2009-2012; Director 2006-2013, and Public Awareness Committee Chair, 2014-present).

Martindale Hubbell rating: AV
Back to Top





DAVID M. K. LUM


DMKLum@lawcsilc.com

Was born in Honolulu, Hawaii (February, 1953) and graduated from the University of Hawaii in Honolulu, Hawaii (B.A., 1977) and John Marshall Law School in Chicago, Illinois (J.D., 1980). He was admitted to practice in the State of Hawaii in 1980 and is licensed to practice before United States District Court for the District of Hawaii.




Mr. Lum is a member of the Litigation Section of the American Bar Association.

Mr. Lum served as law clerk to the Honorable James H. Wakatsuki (then sitting in the First Circuit Court, State of Hawaii), as a Deputy Attorney General, State of Hawaii and as a Deputy Prosecuting Attorney, City and County of Honolulu.

Mr. Lum practices in the areas of civil and commercial litigation. He regularly serves as an arbitrator with the Court-Annexed Arbitration Program.

Martindale Hubbell rating: AV
Back to Top





CAROLYN M. OSHIRO


CMOshiro@lawcsilc.com

Was born in Honolulu, Hawaii (December, 1963) and graduated from the University of Southern California in Los Angeles, California (B.S., 1985) and the William S. Richardson School of Law, University of Hawaii in Honolulu, Hawaii (J.D., 1994). She was admitted to practice in the State of Hawaii in 1994.




Ms. Oshiro is a member of the Real Property, of the Trust and Estate Law section of the American Bar Association. She is a member of the Business Law, Real Property and Financial Services and Intellectual Property sections of the Hawaii State Bar Association.

Ms. Oshiro served as president and a member of the Board of Directors of the William S. Richardson School of Law Alumni Association.

Ms. Oshiro was a member of the University of Hawaii Law Review and authored "Sexual Harassment in the Workplace: Remedies Available to Victims in Hawai'i," 15 University of Hawaii Law Review 453, 1993. She was an insurance adjuster with James E. Sloman & Associates in Los Angeles, California prior to attending law school.

Ms. Oshiro practices in the areas of business transactions (including development, acquisition and sales of businesses and government contracts), real property law (including acquisitions, sales, leases and development) and commercial law. She served as an arbitrator in the State Certified Arbitration Program under Hawaii's Lemon Law Act.

Martindale Hubbell rating: BV

Back to Top




RONALD R. SAKAMOTO


RRSakamoto@lawcsilc.com

Was born in Honolulu, Hawaii (October, 1951) and graduated from Whitman College in Walla Walla, Washington (B.A. with distinction in Economics, 1973) and the William S. Richardson School of Law, University of Hawaii in Honolulu, Hawaii (J.D., 1979). He was admitted to practice in the State of Hawaii in 1979 and is admitted to practice before the United States Tax Court.




Mr. Sakamoto is a member of the Business Law Section (formerly Corporations and Securities Section), Tax Section and Real Property and Financial Services Section of the Hawaii State Bar Association. He is past Chair of the Business Law Section, and past Chair of the Tax Section, of the Hawaii State Bar Association.

Mr. Sakamoto participated extensively in the shaping and 1996 enactment of the Hawaii Uniform Limited Liability Company Act as well as the Hawaii Business Corporation Act in the 1980's which was the first major revision and codification of Hawaii corporate law since the mid-1800's. He drafted the language for the year 2000 statutory revision which conformed Hawaii law to the Limited Liability Partnership provisions of the Revised Uniform Partnership Act. He participated in the 2003 enactment of Hawaii's version of the Uniform Limited Partnership Act, also known as Re-RULPA (the Revised Uniform Limited Partnership Act).

Mr. Sakamoto was co-Editor-in-Chief of the Hawaii State Bar Association Limited Liability Company Manual published in 2003 and sole editor of the Hawaii State Bar Association Limited Liability Company Manual published in 2011. Mr. Sakamoto was Business and Production Manager of the University of Hawaii Law Review.

Mr. Sakamoto lectures regularly at professional seminars on structuring and taxation of business entities.

Mr. Sakamoto practices in the areas of taxation (federal and State of Hawaii), business transactions (including development, acquisition and sale of businesses), real property law (including acquisitions, sales, leases and development), corporate, partnership and other business organizations law, nonprofit and charitable organization law, and pension and profit sharing law.

Martindale Hubbell rating: AV
Back to Top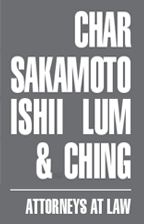 Home

About Us

Attorneys

Practice Areas

Clients

Contact Us