Present and Former Clients:


Actus Lend Lease LLC
Aeko Kula, Inc. (dba Aloha Air Cargo)

Alcal Specialty Contracting, Inc.

Alliance of Hawaii Pharmacies, Inc.

The Allen Broadcasting Corp. (dba KBFD TV)

Aloha Airlines, Inc.

American Mutual Group

Bamboo River, LLC (dba The Wedding Café and Eden in Love)

Bank of Honolulu

Bento Box Homes, LLC

Bombardier Capital, Inc.

Brickwell Asset Management XVII, LLC

C. F. Corporation (Edsung, Inc.)

C. S. Wo &ampamp Sons, Limited

Cabras Marine Corporation (Guam)

Carpet Linoleum &ampamp Soft Tile Local Union 1926 Trust Funds

Craig's Air Conditioning, Inc.

Diamond Head Memorial Park

Diagnostic Laboratory Services, Inc.

Eggs Hawaii, Inc.

Federal Express Corporation

First Risk Management Services, Inc.

Fukuji &ampamp Lum Physical Therapy Associates, Inc.

Hawaiian Organics, LLC

Hakuyosha Hawaii, Inc.

Hawaii Branch of the International Dyslexia Association

Hawaii Electricians Trust Funds

Hawaii Lion Foundation

Hawaii Pacific Health (Kapiolani Health, Kapiolani Medical Center at Pali Momi, Kapiolani Medical Center for Women and Children, Straub Clinic &ampamp Hospital and Wilcox Memorial Hospital)

Hawaii Public Policy Advocates

Kuakini Pathologists, LLC

Hawaii Partnership for a Competitive Economy (Hawaii Business Roundtable and Enterprise Honolulu)

Hawaii State Teachers Association Voluntary Employees' Beneficiary Trust

Hawaii Stevedoring Multiemployer Pension Plan

Hawaii Terminals Multiemployer Pension Plan

Hawaiian Airlines, Inc. (Airline Contract Maintenance and Equipment, Inc.)

Hawaiian Host, Inc.

Highway Inn, Inc.

Internet Movie Channel

Island Palm Communities LLC

JCB International Co., Ltd.

James Jasper Enterprises, LTD (Jasper Properties, LLC, JJ's Broiler Limited, Aina Hou Development Corporation, and South Pacific Bistro, Inc.)

Jodo Mission of Hawaii

Koolau Radiology, Inc.

Lend Lease (US) Public Partnerships LLC

Maui Divers of Hawaii, Ltd.

Menehune Green, LLC

Morrow Crane Co., Inc.

New Hope International Ministries

NVT Hawaii LLC dba KHON-TV

Oahu Waste Services, Inc. (Honolulu Disposal Service, Inc. and Maui Waste Services, Inc.)

Operating Engineers Trust Funds

PacAir Properties, LLC (Guam)

Pacific Beach Corporation (Pacific Beach Hotel)

Pacific Cardiology, LLC

Pacific Pump and Power, Inc.

Pacific Cultural Center

Pacific International Skydiving Center

PAMCAH-UA Local 675 Trust Funds

Pan-American MOA Foundation

Pepsi Cola Company

Prada Hawaii Corp.

Prime Care Services Hawaii, Inc.

Prudential-Bache Securities, Inc.

Pruvient Energy Guam Investments, Inc.

Puulu Lapaau

QSI, Inc. (dba Times Super Markets, Fujioka's Wine Times, Shima's Market, and Big Save Markets)

Rest Easy LLC

Royal State Corporation (dba Royal State Insurance)

RSI Roofing and Building Supply

Sam Sung Development Co., Ltd.

Samkoo Hawaii, LLC

Samkoo Pacific, LLC (dba Kapiolani Residence)

Sanpei Hawaii Co., Ltd.

Shiseido Hawaii, Inc.

Spectrum Health Care Resources, Inc.

SpeediShuttle LLC

The Gas Company, LLC

The Nature Conservancy

The Queen Emma Foundation

The Queen&amp#39s Health Systems

Tihati Productions, Ltd.

Tileco, Inc.

Town &ampamp Country Recreation, Inc. (dba Town &ampamp Country Surf Shop)

Trinity Missionary Baptist Church

Unicold Corporation

and Waikapu Mauka Partners.

Back to Top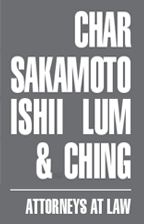 Home

About Us

Attorneys

Practice Areas

Clients

Contact Us